Too Much Instant Noodles in Bansos Sembako: Health and Regulation Review
Wednesday, 10/06/2020SurveyMETERArief Gunawan, SE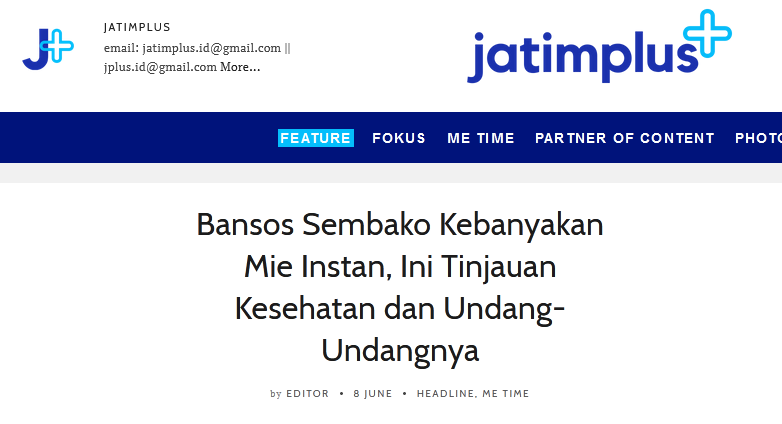 For 3 months, the government disbursed social assistance (bantuan sosial/bansos), especially food supplies or sembako to affected residents of Covid-19. The contents are mostly food and beverages from large industries. How far is the alignment for farmers / fishermen?
The basic food aid program during the current pandemic still uses Permensos No.1 in 2013, not using the latest regulations from the Ministry of Coordinating Ministry of Health and Culture when viewed from the contents of the basic food aid. This is really worrying. This basic food aid program will last for 3 months, if it still uses Permensos, then this policy will not grow the economy of the people at the bottom because it only expands the production sector of the food industry. However, if seen from the contents and benefits of the food distributed at the Social Aid Center such as instant noodles, sardines, corned beef, and others, it will certainly have a negative impact on the health of the people themselves.
Facing the COVID-19 outbreak the Indonesian government has prepared a number of programs that have experienced expansion of targets since the pandemic. President Joko Widodo (Jokowi) on Tuesday (3/31/2020) announced an additional expenditure and financing for the 2020 State Budget for handling COVID-19 of Rp 405.1 trillion. The budget of Rp 405.1 trillion will be used, one of which is for the social safety net (SSN) of Rp 110 trillion.
Also special social assistance for 2.6 million people or 1.2 million families (KK) of DKI Jakarta residents and 1.6 million people or 576 thousand families of Bodetabek residents in the form of nine-basic necessities, equivalent to Rp 600,000 per month. The purpose of launching the social safety net program is to pay great attention and give top priority to maintaining the fulfillment of the basic needs of the community and increasing the purchasing power of the people at the grassroots level.
Provincial Government. East Java distributed social assistance in the form of a package of staples for its citizens affected by the Covid-19 outbreak. The package of staples was put in a large bag bearing the provincial government logo. East Java There are 6 types of staple items that are put in the bag. It contained 5 kg of premium rice, 1 liter of cooking oil, 10 packs of instant noodles, 15 eggs, 1 kilogram of sugar, and a health product package containing vitamin C, liquid hand sanitizer, and mask.
The social assistance package was packaged at the East Java Expo Building on Jalan Ahmad Yani Surabaya. A total of 206 food packages are being prepared for Surabaya residents who were affected by Covid-19 and registered in the Bansos radar system. In addition, plus 80 recipients of East Java residents who had just returned from Bali. Also last week 1,900 social assistance packages were also given to East Javanese residents who did not go home, and remained in overseas areas in the Jakarta-Bogor-Depok-Tangerang-Bekasi (Jabodetabek) area. In addition to the social assistance package, Rp 200,000 per person was given cash for three months.
In addition, President Joko Widodo has distributed social assistance in the form of food to 15 regions in Indonesia affected by the Covid-19 pandemic. The contents of the nine basic necessities include 10 kilograms of rice, 1 liter of cooking oil, and ready-to drink tea.
Of the 15 cities, the first is Surabaya, Semarang, Yogyakarta, Bandung. The assistance from the President is different from the Social Aid provided by the Ministry of Social Affairs because it comes from the community aid budget. The assistance of 10 thousand food packages to the affected Surabaya residents was received by the Mayor of Surabaya on Thursday (4/30/2020).
Assistance from the President will be allocated to other communities affected by Covid-19 who have not received any intervention from the Government, for example, people who are terminated from work relations (PHK), food vendors in schools and various workers affected by this pandemic.
In addition to this basic food assistance, East Java Provincial Government related to food there is a supplementary social assistance and coating for Non-Cash Food Assistance (BPNT), as well as food / cash assistance programs through Special Financial Assistance (BKK). For regions that are currently implementing PSBB, there are 118,758 KPM for the City of Surabaya that has received a top up from the East Java Provincial Government, which is equivalent to Rp. 5.62 billion.
Whereas for Sidoarjo Regency, there were 6,773 KPM that received the top-up which is equivalent to a total value of Rp 2 billion. And for Gresik District who will receive top up assistance, there are 3,448 KPM or equivalent to Rp 1 billion from this BPNT supplement and back up program.
Regulations on Bansos Sembako in Indonesia
So far, for the problem of disasters using regulations from the BNPB, one of them is the provision of basic food assistance during a disaster. Stated in the Regulation of the Head of the National Disaster Management Agency Number 7 of 2008 concerning Guidelines for Procedures for Providing Assistance to Fulfill Basic Needs. In Chapter 4B on food aid, food aid is provided in the form of food ingredients, or food provided by public kitchens.
The minimum standard for assistance is food in the form of 400 grams of rice per person per day or other basic foodstuffs and side dishes or food provided by the public kitchen in the form of ready meals as much as 2 meals a day. Food aid is equivalent to 2,100 kilo calories (kcal).
In addition to the above regulations there are also regulations issued by the Ministry of Social Affairs, namely the Republic of Indonesia Minister of Social Affairs Regulation No. 01 of 2013 concerning Social Assistance for Disaster Victims. In Article 4, namely direct assistance given to disaster victims referred to in Article 4 paragraph (2) letter a, in the form of clothing, food, and shelter. Food aid is direct assistance in the form of food consisting of: rice, instant noodles, packaged fish / meat, packaged soy sauce, packaged chili, packaged cooking oil, ready meals, and / or other food as needed.
Now there is a social assistance regulation on food after the issuance of the Basic Food Card Social Program issued by the Controlling Team for the Implementation of Non-Cash Social Assistance Distribution in the Office of the Coordinating Ministry for Human and Cultural Development in the form of "GENERAL GUIDELINES FOR SHOPPING THE 2020 SHOP PROGRAM". It is also arranged about the basic food aid.
This regulation contains the benefits of the nine-basic-necessity program at Rp150,000 / KPM / month. The assistance cannot be taken in cash and can only be exchanged for food that is determined for the Sembako program in e-Warong. Foodstuffs that can be purchased at e-Warong using food aid programs are: carbohydrate sources include: rice or local foodstuffs such as corn and sago. Also a source of animal protein: eggs, beef, chicken, fish or vegetable protein sources: nuts including tempeh and tofu. And also a source of vitamins and minerals: vegetables, fruits
Risks of Consuming Instant Food
Quoted from Kompas.com dated 05/22/2019, based on data from the World Instant Noodles Association, Indonesians consumed 12.54 billion servings of instant noodles throughout 2018, surpassing Japan and India. This high consumption rate raises the question, is instant noodles good for the body?
Instant noodles are generally made from basic ingredients of wheat flour, equipped with herbs containing salt, spices, and MSG. also has high calories from carbohydrate, fat, and sodium and other minerals such as manganese and iron, and is strengthened with vitamins, such as vitamins B1, B2, B3, and B9. However, excessive consumption of instant noodles has the potential to cause several diseases. High sodium content can cause an increase in blood pressure, while high carbohydrates cause the glycemic index of instant noodles to be large, thus increasing blood sugar levels. This is what motivates the appeal to limit consumption of instant noodles.
Regarding consumption of sardines or canned fish products, many say the nutritional content of canned sardines is no longer available. Although naturally, sardines are rich in vitamins and minerals. In the Indonesian Food Composition Table book from the Indonesian Nutritionists Association published in 2009, canned fish or sardines have a high enough protein value. It is said that canned sardines contain 72.7 grams, 109 kcal of energy, 19.9 grams of protein, 1.8 grams of fat, and 3.4 grams of carbohydrates. It's just that the nutritional value is said to decrease with the amount of nutrition when it is still fresh.
Although the nutritional content is similar, but canned foods are added with chemicals during the packaging process. One of the chemicals used in packaging is BPA (bisphenol-A). Although only a little, but the BPA in sardine cans can move to the food consumed. There are studies that prove the relationship between BPA intake and the risk of heart disease, type 2 diabetes mellitus, and sexual dysfunction in men. Not only BPA, but also added sugar, salt, and preservatives in canned sardines, with added sugar and salt, this can have a negative impact on conditions such as diabetes and high blood pressure.
From the information above, it can be imagined that this basic food assistance program will run for 3 months. A total of 1.7 million food-recipient families regularly consume instant food. After the pandemic, you can imagine what happened to public health. The concern is that there will be a surge in people with hypertension and other health problems. Most of them are recipients of BPJS PBI (recipient of contribution assistance), which of course will also drain health financing from the government itself.
In Case it Can Be Replaced with Fresh Fishes
If seen from economic growth, you can imagine if these instant noodles and sardines bansos are replaced with local carbohydrate foods and fresh or salted fish according to the rules of the nine-basic necessities program from the Coordinating Ministry of PMK, then production from agriculture and fisheries from Indonesian farmers and fishermen will definitely increase, and of course there is economic movement at the grassroots level (with work still following the health protocol during this pandemic).
This means that people's purchasing power also grows and develops in line with expectations. During this pandemic problems arose in farming and community fisheries business such as the distribution of agricultural products constrained by PSBB, sluggish demand, and falling prices for agricultural products during the harvest season, which resulted in farmers being hardest hit by this condition.
As an illustration, PSBB implementation has made demand for chicken, which is dominated by restaurant owners, plummeted by 30 percent, even though the production costs on the farm are fixed. The price of eggs and fish fell free. As Kontan.co.id wrote, Friday, April 24, 2020 it was stated that the fish canning industry is one of the sectors that got a blessing amid the Covid-19 pandemic. Therefore, the demand for processed products in the sector tends to increase, especially to meet the protein needs of the community. Aside from being absorbed through the export, retail and online markets, processed canned fish is used as one of the social assistance products to the community, although there are also challenges, including rising prices for cans, sauce paste and thickening flour imported as well as the reduction in raw materials for fish imported from the country which enforces lockdown.
If agricultural and fishery products from the community's own production can fill basic food staples in accordance with the PMK kemenko regulations used during this pandemic, this condition certainly will not happen again, because of course the economic growth of the community itself will grow and be maintained aspects of production for agriculture and fisheries according to expectations from the existence of this Bansos goal.
________
This article was first published in:
https://jatimplus.id/bansos-sembako-kebanyakan-mie-instan-ini-tinjauan-kesehatan-dan-undang-undangnya/