Being a companion for the elderly makes them and us happy
Friday, 09/10/2020YogyakartaSiti Musfatun Khasanah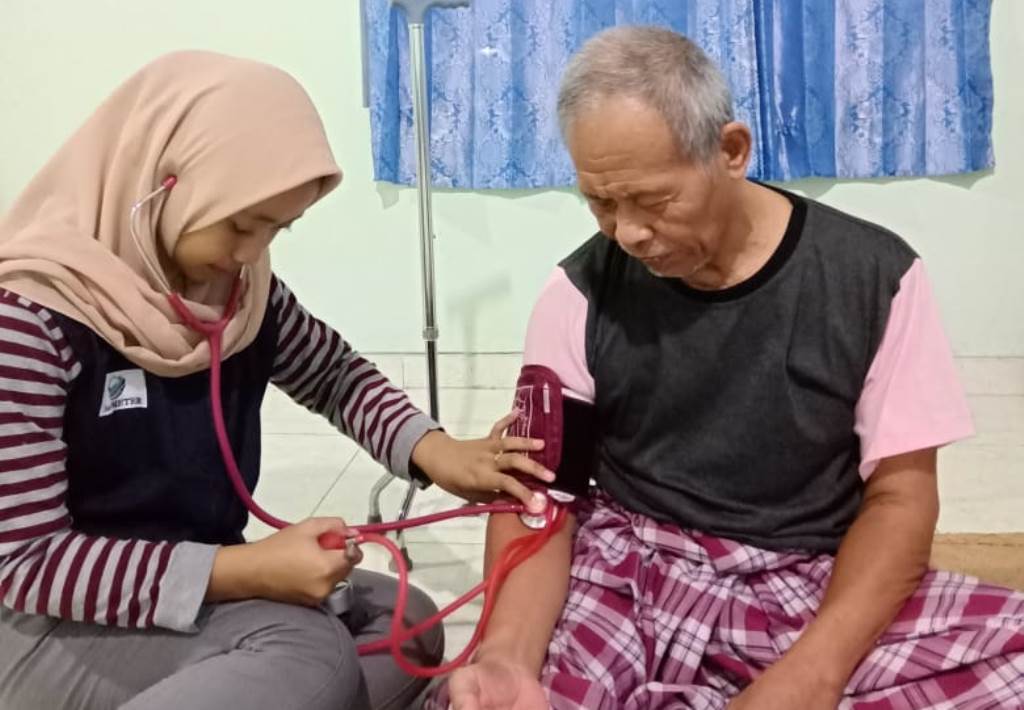 It doesn't feel like it's been 3 years me and 6 of my friends have become senior companions. My friends and I participated in the activities of assisting elderly activities when entering grade 10 of SMK. Frankly, one of the motivations for being a companion is to get a scholarship for SMK from SurveyMETER with the condition to become a Young Cadre of Senior Assistance by being involved in humanitarian activities in our hamlet, Watugedug Hamlet, Guwosari Village, Bantul District.
After participating in the activity, we seemed to forget the motivation. It turns out that being a companion for the elderly is fun. We only need to set aside a little time a month to be able to assist and give a little attention to the elderly. With our companion, at least the elderly do not feel left out from their group, feel cared for by the people around them, feel that there is someone to share, and no longer feel they have to be alone without any attention from others.
Sometimes seeing them laugh out loud makes me feel good; so it is the result of how I set aside a little time for them. It's great to see them laughing when we joke around on the sidelines. At least it can remove a bit of the burden on their minds.
Routine activities of elderly companion include, once a month we help posyandu cadres in implementing posyandu services for the elderly. We are skillful in helping cadres to measure blood pressure, weigh their body weight and record it in books. The purpose of measuring tension is to control blood pressure every month so that if there is anything unusual, it will be consulted with cadres and health workers in the village.
While waiting for the health measurement service to finish, they will chat and share stories with other elderly people. That's when we occasionally join in and we laugh happily.
After our service, we held a variety of fun activities such as gymnastics, playing angklung and occasionally outbound. Gymnastics for the elderly were carried out with instructors from cadres. While the instructor for angklung is a professional trainer. After about 20-30 minutes of exercise or playing angklung, we will rest, we and the cadres will distribute drinks, fruit and food to them.
Oh yes, for the elderly who do not have someone to take them to the posyandu, we are the one who would pick them up and drive them home.
The outbound activity we have ever done is inviting and accompanying them to tour the historical sites of Selarong Cave. Fortunately the location is just next to our hamlet. During the outbound we held simple games such as playing to move water using a bottle and playing word stringing with whispers, and many other games. Between the games, laughter burst out among us.
Once a month, we also make home visits (homecare) for elderly people with health conditions that make it impossible for them to go to the posyandu. In each visit we take blood pressure measurements and ask about their complaints on health. Often we join the chat to listen to other complaints they feel. At the end of the visit, we gave them gifts.
There are many benefits that we get while assisting the elderly. Among other things, my friends and I became more appreciative of our own parents, especially the elderly. We also gain experiences on how to live socially and be useful for the community.
Last July 2020 our scholarship was completed. And, since the pandemic, to be precise last April, there has been no posyandu and assistance services for the elderly in our hamlet. But among us we intend to continue to be their companion as much as possible. Because we will always miss their laughter and our happiness is unite in the twilight, once a month.