Survey on the Impact of the Covid-19 Pandemic on Mental Health Conditions Phase 2
Tuesday,21/07/2020SurveyMETER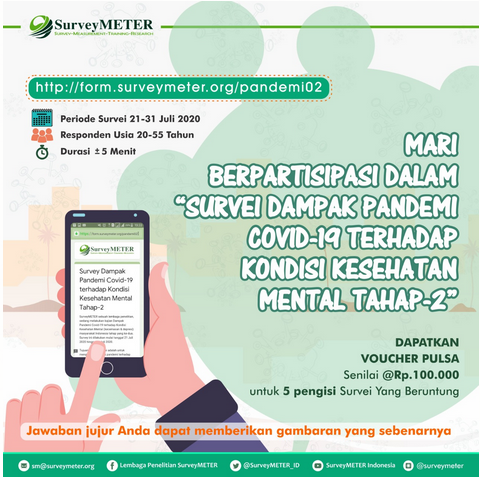 The Covid-19 pandemic in Indonesia has been running for five months and certainly affects the mental condition of the Indonesian people.
Proceeding the phase 1 mental condition survey, SurveyMETER conducted a Covid-19 Pandemic Impact Survey on Mental Health Conditions Phase to acquire a deeper understanding of mental condition levels during the Covid-19 Pandemic, especially anxiety and depression levels. It was conducted from 21 to 31 July 2020.
Those who wish to participate may click on the following link: http://form.surveymeter.org/pandemi02
Your trustworthy answers will facilitate us to elicit real pictures of the conditions.
Get a credit voucher @ Rp. 100,000 for the lucky survey respondents.