Evaluation of the early impacts of sustainability standards on small holders coffee farming households in South Sumatra (midline survey)
Monday, 28/08/2017SurveyMETER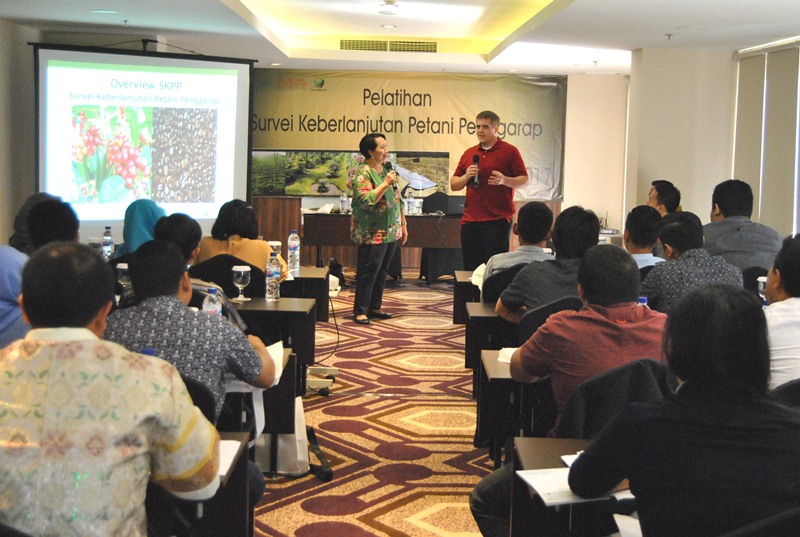 SurveyMETER in collaboration with The Sidney University and Abdul Latif Jameel Poverty Action Lab (J-PAL) carried out the 2017 Farmers' Sustainability Survey (SKPP-KOPI) 2017. This study is a midline stage of the same study (baseline) in 2015.
A midline SKPP was conducted to re-interview about 1,500 households in three sub-districts in Muara Enim Regency, South Sumatra Province who were visited at the baseline stage 2015. All of these households were coffee farmers, both coffee farmers who received assistance from IndoCafco (RCT group) and non-assisted farmers from Indocafco (PSM-Propensity score matching group).
This study uses a quantitative approach. The data collection method is a face-to-face interview with respondents using a laptop or the Computer Assisted Personal Interviewing (CAPI) method. Where all instruments and questions are available in the CAPI program so that the results of the interview can be automatically recorded on a laptop.
The field data collection was carried out starting August 27 yesterday and will end at the end of September 2017. The study activities will continue with the data cleaning process which will last until October 2017.
Similar to the baseline, in addition to the household interview SKPP midline will interview the head of the farmers group (poktan), and the village head. (JF)