Baseline Survey to Assess Bus-Related Policy Interventions to Improve Female Labour Force Participation in Jakarta
Wednesday, 22/02/2017Jakarta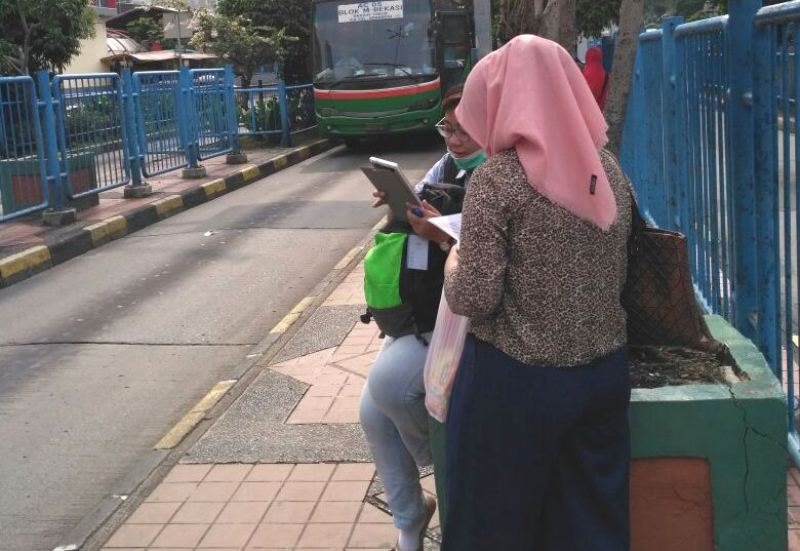 SurveyMETER in collaboration of RAND Corporation and The Australia Indonesia Partnership for Economic Governance (AIPEG) conducted a Survey to Assess Bus-Related Policy Interventions to Improve Female Labour Force Participation in Jakarta or the Trans-Employment Survey. The baseline survey field data collection was carried out in stages from January 17 to March 2017. The series of study phases have been conducted since mid-2016 including pilot studies conducted in September of that year.
The approach that will be used in this survey is a mix method, a combination of quantitative and qualitative methods. The study was conducted on three components, namely household surveys, in-depth interviews, and passenger surveys. Data collection uses a Computer Assisted Personal Interviewing (CAPI) system using laptops (household surveys) and tablets (passenger surveys).
This survey intends to increase the basic understanding of the role of the transit system in the behavior of women workers. In general, the study aims to increase substantive knowledge about the impact of transportation infrastructure on the participation of the female workforce in Indonesia and identify policy reforms for transportation that can enhance this.
Specifically the study has four objectives: to find out how women use bus services (bus rapid transit (BRT) and other buses) in DKI Jakarta; know how mobility is disabled in accessing services and facilities as well as the utilization of existing bus services (BRT and other buses) in DKI Jakarta; know opinions about the quality of current public transportation services; find out what kind of improvement can increase the participation of women in the workforce and also with disabilities with a focus along corridor 6 that has been in the planning of improvements in the near future.
The household survey was conducted to gather detailed quantitative information about women workers, the behavior of the commuter, and socio-demographic characteristics. In-depth interviews using unstructured qualitative instruments are designed to obtain contextual information about the obstacles faced by women and disabled groups in Jakarta and tell the story behind the empirical findings.
The passenger survey (rider) was conducted by interviewing transit passengers at sample stops with a focus on the BRT system. Especially in the perception of passengers about safety and security and their views regarding the possibility of improvements that can be done. (JF)