Active Aging Consortium Asia Pacific Bulletin on SurveyMETER's elderly mentoring programs in Bantul
Tuesday,28/01/2020Yogyakarta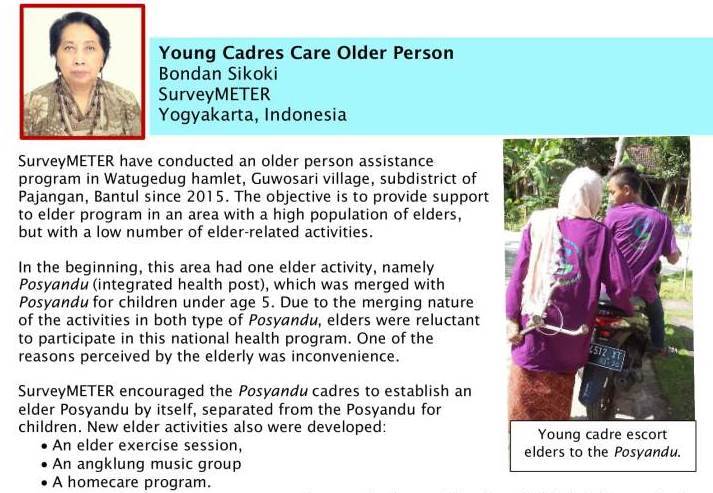 The coverage on SurveyMETER's mentoring programs on elderly at Village Guwosari, Pajangan Bantul is published in Active Aging Consortium Asia Pacific, January-February edition. The bulletin publishes two articles entitled "Intergenerational Traditional Music Group Unites Older Person to Young People" by Wayan Suriastini,  and "Young Cadres Care Older Person" by Bondan Sikoki. The articles are based on two programs implemented at Iroyudan hamlet and Watugedug hamlet respectively..
The program implemented at Iroyudan hamlet focuses on innovative formation of angklung group that comprises of intergeneration members (elderly, elementary-school children, cadres who provide assistance to elderly and youth group). One objective of this group formation is bringing the youth closer to the elderly. Young people's negative perception toward the elderly might vanish thanks to their interaction with the elderly.
Meanwhile, program at Watugedug hamlet, provides scholarship to local vocational high school student in return for their assistance toward elderly living in their neighborhood. This program is expected to encourage youth's respect toward elderly and their involvement in aging-related programs in their village. The scholarship is provided to 7 students at Watugedug hamlet. They come from poor families, selected based on recommendation from head of hamlet Program and must be among 10 best-ranked students in their class. Those youths must involve in elderly posyandu (monthly-held) and provide home care services to bed-ridden elderly.
To read and download the bulletin.