Train Elderly's Memory with Fun Lightweight Games
Monday, 02/03/2020Guwosari, Pajangan, Bantul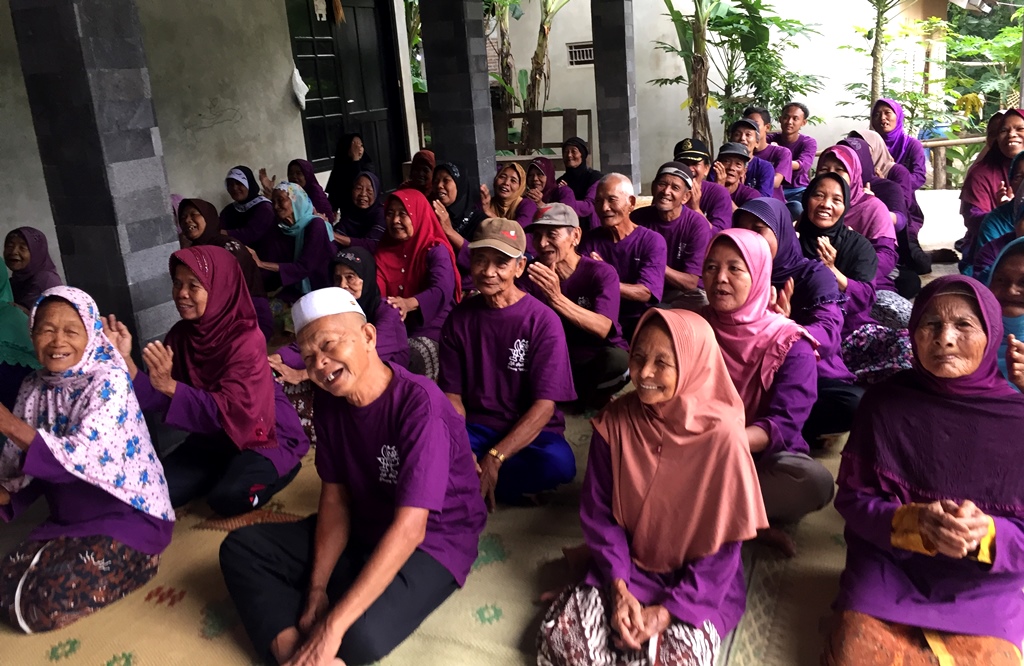 Sunday (01/03/2020) Anggrek Elderly Posyandu , Watugedug Hamlet, Guwosari Village, Pajangan, Bantul, conducts routine monthly service. As usual, service activities take place at the residence as well as the Office of the Head of the Watugedug Hamlet.
This month the posyandu service was attended by 49 elderly people from all RTs in the hamlet, from RT 01 to RT 05. After the routine posyandu services in the form of health checks and supplementary feeding were completed, the activities were not continued with regular exercise or angklung training. But with some light games to hone the memory and concentration of the elderly. They seem happy with and enjoy various games with media songs, words, counts and fingers.
"Unlike in Iroyudan Hamlet, the elderly in this hamlet are more happy with gymnastics or games like this," explained the coordinator of SurveyMETER, Titis Putri Ambarwati.
In some of these games the elderly mingle with companion cadres from the youth group. The game is guided by an advanced cadre of senior age assistants.
The first game, in a standing position cadres guide the elderly to follow the movement with a one-two-three-finger song. One right finger, one left finger, combined into two, to form the bridge. Two right fingers, two left fingers, combined into two, then becomes a camera. And so on until five fingers are combined into a ball. The elderly laughed with the first game.
The next game is the elderly and young cadres sitting in a row and then guided to make a movement to massage the shoulders of friends in front of them accompanied by the song "heavy rain, lightning strikes, hail stones" by senior cadres. Heavy rain to massage hard until the stone rain hit the friend slowly in front of them. After finishing one round, the line turns around to take turns. After that they were asked to hold each other's shoulders of the person in front of them and make body movements to the right, left, front and back.
The next game, the elderly in a sitting position facing each other. By the cadres they were told to make a gesture to hold each body part according to the numbers that the cadre mentioned randomly. For example, number 1 holds the head, number 2 holds the shoulder, number 3 holds the stomach, number 4 takes the ball, and number 5 holds the knee. If they do wrong, the friend in front of them will put a piece of label paper on their face.
All of these games are followed by the elderly and cadre with great joy, they look really enjoy and always seen laughing together. The elderly look very happy and do not feel being taught or told, even among those who laugh. Their pleasure culminated when at the end of the activity they were treated to nutritious supplementary food and were given gifts to share love in the context of the 18th anniversary of SurveyMETER.  Keep healthy and happy always, Simbah. (TPA / JF)