Angklung Nusantara Lintas Generasi Iroyudan Hamlet Becomes School Extracurricular Activities
Saturday, 22/02/2020Guwosari, Pajangan, Bantul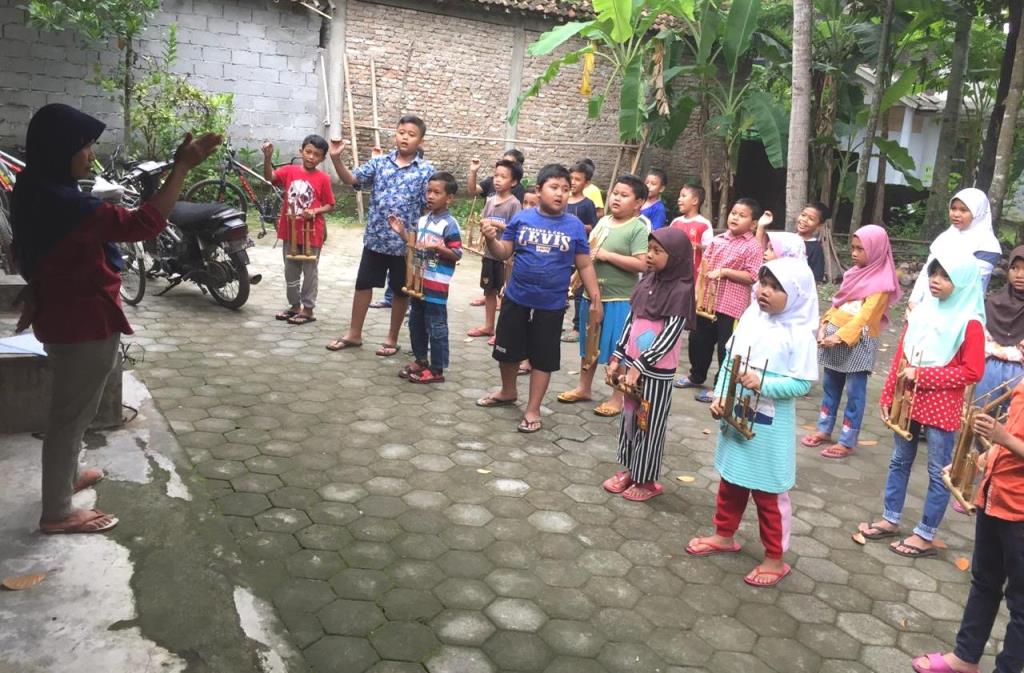 Angklung Nusantara Cross Generations Group Posyandu Elderly Bougenville Iroyudan Hamlet Guwosari Village which is guided by SurveyMETER mentoring activities is one of the extracurricular activities for grade 3 and 4 students of Iroyudan Elementary School in Guwosari Village. Friday (21/02) yesterday in the courtyard of the Iroyudan Hamlet office was their first day of training. The training was led by the cadre coordinator, Siti Maemunah.
All students from the two grades enthusiastically attended the exercise. Their faces express happiness and joy. "Exciting, happy to try and practice Angklung," said Fano (grade 4) who claimed to be first time to practice.
Viona (Fano's classmate) who had participated in training with the Angklung Nusantara Cross Generations Group Posyandu Bougenville, felt happy because she could meet her friends not in class but playing angklung together in an open field.
How this activity became an extracurricular at Iroyudan Elementary School, SurveyMETER co-organizing coordinator, Titis Putri Ambarwati, conveyed the Principal of Iroyudan Elementary School, Jaswabi Wantoro, who asked directly to be an extracurricular activity.  Initially, a number of students and members of the Angklung Nusantara Lintas Generasi Group told their activities to the school principal and they wanted the angklung art to be staged at a school event.  Furthermore, according to Titis, the principal welcomed the wishes of some of these students and asked permission and direct support from the Head of Iroyudan Hamlet to be assisted in the training process.  "A number of exercises in the future will use Angklung property of the Angklung Nusantara Lintas Generasi Group, but SDN Iroyudan has budgeted the purchase of several sets of angklung," explained Titis.
The angklung extracurricular art group of SDN Iroyudan has just been formed and this training has been projected to be able to perform in every school event such as closing the year and commemorating national holidays. (JF-AN)